1. Register your account
We send the goods to your address registered to PayPal. Therefore, you do not need to register your address on our site.
You will get a confirmation email from overseas@bass.co.jp soon if your registration has completed.
2. Buy on our web sites.
We have 4 domains. However, the shopping cart is one. Therefore, you can shop by all domains.
*We are sorry,the item descriptions are all Japanese language .
3. Checkout with PayPal
You can complete the payment immediately. But you have to pay temporary shipping fee.
4. About Shipping method
You can chose a shipping method on the check out screen.
World airmail can send only a small box.
---
4-1:About Express Mail(EMS)
EMS is faster than Economy mail service. max weight is 30kg. Please see Japan post website for detail.
EMS Price
Weight
Asia
Europe
Russia
Oceania
America
Middle East
South America
Africa
500g
1,400JPY
2,400JPY
2,450JPY
2,400JPY
600g
1,540JPY
2,660JPY
2,700JPY
2,740JPY
700g
1,680JPY
2,920JPY
2,950JPY
3,080JPY
800g
1,820JPY
3,180JPY
3,200JPY
3,420JPY
900g
1,960JPY
3,440JPY
3,450JPY
3,760JPY
1,000g
2,100JPY
3,700JPY
3,700JPY
4,100JPY
1,250g
2,400JPY
4,340JPY
4,300JPY
4,900JPY
1,500g
2,700JPY
4,900JPY
4,850JPY
5,700JPY
1,750g
3,000JPY
5,540JPY
5,450JPY
6,500JPY
2,000g
3,300JPY
6,100JPY
6,000JPY
7,300JPY
2,500g
3,800JPY
7,200JPY
7,050JPY
8,800JPY
3,000g
4,300JPY
8,300JPY
8,100JPY
10,300JPY
3,500g
4,800JPY
9,400JPY
9,150JPY
11,800JPY
4,000g
5,300JPY
10,500JPY
10,200JPY
13,300JPY
4,500g
5,800JPY
11,600JPY
11,250JPY
14,800JPY
5,000g
6,300JPY
12,700JPY
12,300JPY
16,300JPY
5,500g
6,800JPY
13,800JPY
13,350JPY
17,800JPY
6,000g
7,300JPY
14,900JPY
14,400JPY
19,300JPY
7,000g
8,100JPY
16,800JPY
16,200JPY
21,400JPY
8,000g
8,900JPY
18,700JPY
18,000JPY
23,500JPY
9,000g
9,700JPY
20,600JPY
19,800JPY
25,600JPY
10,000g
10,500JPY
22,500JPY
21,600JPY
27,700JPY
11,000g
11,300JPY
24,400JPY
23,400JPY
29,800JPY
12,000g
12,100JPY
26,300JPY
25,200JPY
31,900JPY
13,000g
12,900JPY
28,200JPY
27,000JPY
34,000JPY
14,000g
13,700JPY
30,100JPY
28,800JPY
36,100JPY
15,000g
14,500JPY
32,000JPY
30,600JPY
38,200JPY
16,000g
15,300JPY
33,900JPY
32,400JPY
40,300JPY
17,000g
16,100JPY
35,800JPY
34,200JPY
42,400JPY
18,000g
16,900JPY
37,700JPY
36,000JPY
44,500JPY
19,000g
17,700JPY
39,600JPY
37,800JPY
46,600JPY
20,000g
18,500JPY
41,500JPY
39,600JPY
48,700JPY
21,000g
19,300JPY
43,400JPY
41,400JPY
50,800JPY
22,000g
20,100JPY
45,300JPY
43,200JPY
52,900JPY
23,000g
20,900JPY
47,200JPY
45,000JPY
55,000JPY
24,000g
21,700JPY
49,100JPY
46,800JPY
57,100JPY
25,000g
22,500JPY
51,000JPY
48,600JPY
59,200JPY
26,000g
23,300JPY
52,900JPY
50,400JPY
61,300JPY
27,000g
24,100JPY
54,800JPY
52,200JPY
63,400JPY
28,000g
24,900JPY
56,700JPY
54,000JPY
65,500JPY
29,000g
25,700JPY
58,600JPY
55,800JPY
67,600JPY
30,000g
26,500JPY
60,500JPY
57,600JPY
69,700JPY
---
4-2:About FedEex
New2021
FedEex prices will vary slightly depending on the country and time of delivery. Therefore, the price list will not be displayed. However, the price is about the same as or a little cheaper than EMS. FedEex is cheaper for heavy items over 1kg.
If you want to receive it with FedEex, please write "FedEex" in the comment field.
All customers need to give us your phone number.
Italian customers must fill in your tax code.
Please note: FedEx does not work on Saturdays, Sundays and Japan public holidays. Therefore, Your luggage may not move in my store for several days after you receive your truck number.
Holiday Schedule | FedEx Japan
---
4-3:About World Airmail(Small Packets)
Warning
Small packet insurance is only guaranteed up to 6000 yen.
Therefore, if your shopping is expensive, choose EMS instead of small packets. EMS is guaranteed in full.
World Airmail(Small Packets) is slower than EMS, but it is cheep.
Max weight is 2kg. Please see Japan post website for detail.
Max total length is 90cm
a (length) 60 cm a + b + c = 90 cm
Length + width + thickness = 90 cm
However, the maximum length is 60 cm
World Airmail days
World Airmail Price
The price changed in April 2021.
Weight
Asia
Europe
Russia
Oceania
America,
Middle EasT
South America
Africa
USA
100g
¥690
¥790
¥820
¥1,150
200g
¥780
¥910
¥1,000
¥1,280
300g
¥870
¥1,030
¥1,180
¥1,410
400g
¥960
¥1,150
¥1,360
¥1,540
500g
¥1,050
¥1,270
¥1,540
¥1,670
600g
¥1,140
¥1,390
¥1,720
¥1,800
700g
¥1,230
¥1,510
¥1,900
¥1,930
800g
¥1,320
¥1,630
¥2,080
¥2,060
900g
¥1,410
¥1,750
¥2,260
¥2,190
1000g
¥1,500
¥1,870
¥2,440
¥2,320
1100g
¥1,590
¥1,990
¥2,620
¥2,450
1200g
¥1,680
¥2,110
¥2,800
¥2,580
1300g
¥1,770
¥2,230
¥2,980
¥2,710
1400g
¥1,860
¥2,350
¥3,160
¥2,840
1500g
¥1,950
¥2,470
¥3,340
¥2,970
1600g
¥2,040
¥2,590
¥3,520
¥3,100
1700g
¥2,130
¥2,710
¥3,700
¥3,230
1800g
¥2,220
¥2,830
¥3,880
¥3,360
1900g
¥2,310
¥2,950
¥4,060
¥3,490
2000g
¥2,400
¥3,070
¥4,240
¥3,620
Note for Economy mail
We can not send any liquid products.
Economy mail also has a tracking number. However, in some countries tracking may not be possible.
we can not send fishing rod.
---
Note and FAQ for shipping fee
We cannot export all Shimano articles to overseas. It is based on a contract between Shimano and our company.
Zanaq rods cannot be exported overseas.
Rods within 150 cm are sent by EMS. The shipping fee to Europe and Russia will be 3650 yen to 4100 yen.

We can not send liquid and spray products. detail

Automatic inflatable lifevests can not ship via air due to hazardous materials.

Magazines and books ,landing net , tackle box,Rod stand are big and heavy so shipping fee will be increase. Choose FedEx when buying these. For heavy luggage, you can send it cheaply with FedEx.
We send the fishing rod with a hard paper tube. It is possible to put up to 2 rods in one tube. (However, if rod case is thick, only 1 rod.)
In most cases, a small spoon for trout is less than 500g.
70% of all baggage sent from my shop is less than 500g.
Soft plastic lures for bass fishing are heavy.
---
4-4:About Packing material fee
New2021
If the total amount of the products is 5000JPY or less, a packing material fee of 100JPY will be collected. The 100JPY will be settled when the shipping fee is refunded.
About rod delivery
New2021
Previously we used to send your rod with the tube below. However, from 2021, the rod will be sent by the upper triangular cylinder.
By changing the box, it will be much lighter and the shipping cost will be considerably cheaper. Previously, when sending a 2-piece rod to Europe, it was about 4000 yen by EMS. Now, if we use FedEx with this triangular cylinder, you can get it for about 2500 yen.←Corrected in March 2021. This is a mistake.It should be as follows↓
From the fall of 2020 to March 2021, we were sending 2-piece rod by FedEx for around 2200 yen. This is because the shipping fee is displayed as about 2200 yen by FedEx's slip issuing system. But that was a mistake. In fact, we were later charged by FedEx for a shipping fee of 4000-6000 yen. We suffered a huge deficit due to FedEx's sloppy system.
It costs max 6,000 yen to send a 2-piece rod with FedEx. It's very expensive. So we recommend EMS.
A general rod bag can hold up to 3 rods in one case. The Rodeo Craft case is ridiculously thick, so only one can fit.
5. After your order
(1) Your items will be sent to the international shipping center.
We have 8 stores. Your items are stocked in 8 stores now.
Therefore we need to move your items from branch stores to the international shipping center(Kumagaya HQ).
You have to wait 1 ~ 3 business days . (All store close every Tuesday.)
(2) Your items will be packed at the international shipping center
(3) After packing, the actual shipping cost will be calculated.
(4) We compare actual shipping cost and temporary shipping cost.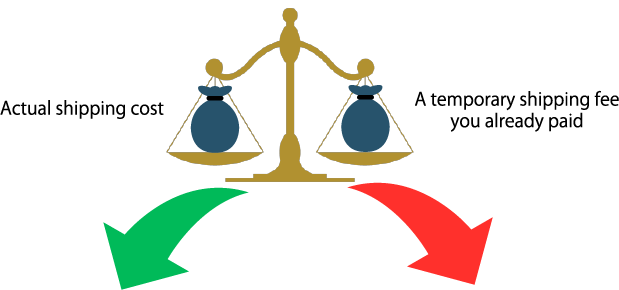 Actual shipping cost < Temporary shipping cost
(5) we send your items.
(6) We refund the difference of shipping fee with PayPal.
(7) We send the tracking number to your email. (Around 17 o'clock Japan time)
(8)Please wait a while for items to arrive.
Actual shipping cost > Temporary shipping cost
(5) We send a new PayPal invoice for additional shipping cost to you
(6) After you pay , we send your items .
(7) We send the tracking number to your email. (Around 17 o'clock Japan time)
(8)Please wait a while for items to arrive.
FAQ
My baggage is stopped in Tokyo, so please check it.
The most frequent question

In the tracking screen, there are many times that it stops for several days in this state.
Many customers seem to think that they are "stopped in Japan." But that is your misunderstanding.
This status is displayed when baggage has already been shipped from Japan to your country.
In this status, we Japanese people can not contact the post office. Because baggage is not already in Japan.
If your package is stopped in this state, please contact the post office of your country.
I want to pay via credit card
Sorry,we can not accept it .
When will it ship?
You have to wait 1 ~ 3 business days after you made the order . (Our stores close every Tuesday.)
How many days does it take to arrive?
・€EMS
・€AIRMAIL
How many rods can be sent at once?
The tube accepts up to 2 rods.
It is displayed as free shipping. Do I need to pay a shipping fee?
Free shipping is only in Japan.
Is it possible to order by e-mail?
We can not accept it. Please make an order with the cart system.
I bought a lot. Can you discount?
We do not offer discounts to all our customers.
I want to buy products not on the site.
Please see special orders.
Please let me know the next arrival time of xxxxxx
Products on 8 stores are posted on this EC site. Therefore, it is quite difficult to answer that question.
We are selling only in-stock items. We do not accept email special order. Please contact Tackle Japan (a group of our company) , They will accept special order by email.
https://www.tacklejapan.com/contact
I tracked my baggage,but it is stopping on halfway.
In most cases, your package is being moved from Japan to your country. In that case, the Japanese post office can not do anything. Sorry to trouble you, but please contact the post office of your country.
One piece rod broke. I want to repair.
It is impossible to repair broken rods. It is necessary to exchange it for a new one. Also at that time, you need to send broken rods to my shop.
Insurance & guarantee for all rods will not be applied overseas.So,You have to pay for repair costs and a large transportation fee enough to buy a new rod.
The two piece rod broke. I want to repair.
Rod warranty & insurance is not applied overseas. It is impossible to repair a broken rod, so it will be replaced with a new one.
If you break a tip section, you need to send a butt section to my shop.
The following is the flow of repair.
(1) You have to send a butt section to our store
(2) We send it to the manufacturer
(3) The manufacturer adjusts the connection between the butt section and the new tip section
(4) Manufacturer will send butt section and tip section to our store
(5) We send them to you.
*The repair cost is roughly 30% of the price when bought with a new item. And you need to pay all the shipping fee for the above 4 times.
*You can not buy only tip section.
Where do I register my address?
You do not need to register it. We will send items to the address you registered with PayPal.
Luggage arrived. However, there were missing items.
We are conducting stricter checks than several staff before shipment. However, in the unlikely event that products are short, please contact to overseas@bass.co.jp.
Please do not dispute to PayPal. When you do that, the price you paid will be frozen and we will not be able to refund you.
I would like to purchase reel parts
Parts sales is no benefit to our shop. It is like a volunteer. Therefore, it is services for customers who bought in our shop. But if you pay 1,000JPY fee, we can order them from manufacture.

Please enjoy shopping with us
Page top